Welcome to Loftus & Whitby AC
LOFTUS & WHITBY AC AGM MEETING
TUESDAY 30th MARCH 2010 AT LOFTUS CRICKET CLUB
8.30pm - Lounge. All Welcome.
Please send 'any other business' to Rob Williamson.
Junior Training for April here
FRIDAY NIGHT TRAINING - WHITBY
NB: training moves to Caedmon fields thisFriday 2nd April.

Richmond XC - PHOTOS from the last fixture of the season.
Results can be downloaded here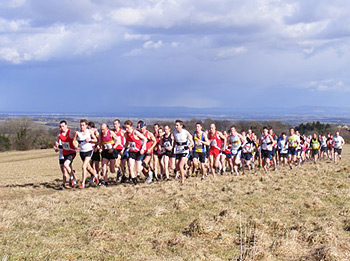 Latest Junior Training Diary here
Yorkshire County Cross Country Report
The re-arranged Yorkshire and Humberside cross country championships were held in bright sunny conditions at Thornes Park Wakefield with the conditions ideal on a demanding course.
Full Report here ...
NYSD Cross Country Results
Results from Acklam Grange
here Photos here
Results from Whitby XC
here
Whitby Cross Country Report here
Junior Results:
RESULTS FOR RACE 1 YEAR 3
here
RESULTS FOR RACE 2 YEARS 5 & 6
here

Some thoughts on the XC season so far... here


Nicola, Grace and Julie at Summerhill
Summerhill XC:
more photos here Results
here
NYSD Cumulative Scores
here
Junior Training here

Angharad Owen on the way to victory at Flatts Lane
Flatts Lane NYSD Cross Country

Results here More photos here
Yorkshire XC Championships
Saturday 9th January 2010 at Thornes Park, Wakefield

Individual Forms

Team Forms

General Information




Rob Williamson leads out for the B team
English National Cross Country Relays 31st Oct - Report
Halloween saw Loftus and Whitby AC send two mens teams to the National Cross Country Relays, the first time we have competed in this event. Report here ...




Start of the men's race - NYSD XC Scarborough
Results
here.More photos here

Start of the women's race - NYSD Cross Country Croft Circuit
Results here

Report here and Pictures here
Yorkshire Vets Track and Field
Our single representative at these championships this year was Ian Duffield, unusually for Loftus AC competing in the 100m and 200m.
This being his only race on a track for a while (Count in decades)
Ian was unsure of the outcome. In the 100m he timed at 16.5 secs which was fastest in the over 65 category. Later in the afternoon he ran the 200m in 34.5 - again fastest of the over 65's and feeling a lot more comfy. So a successful day at Cleckheaton.

McCain Yorkshire Coast 10km Road Race and 2.5km Fun Run
Poster
here Entry form
here
MULGRAVE RUN - 5TH JULY 2009
Download Senior results
here. Report here. Photos here
Download Junior results
here
CLEVELAND WAY RELAY
Report here Pictures here

Dan on a murky leg at the start of the Cleveland Way 2009
EGTON GOOSEBERRY RUN
Results can be downloaded
here
NYSD T&F information here
Membership fees are due from the 1st April 2009
No change from last year.
Senior Membership is £16.00
Juniors/Students/Second Count/Social Membership is £6.00
Please pay Dave Horness or Andy Bostock
Cheques payable to Loftus & Whitby AC
Final results and medal positions for NYSD XC season here

> Yorkshire Track & Field Championships: more info...
> Latest Captain's Newsletter here...
> Club Championships: More details here
Please note Circuit Training at Boulby is at 6.00pm

NYSD XC Double!! - Team at Richmond

(Random image - click refresh to change)

***LATEST UPDATES***

Track and Field Meetings more...
Yorkshire Vets XC more..
Yorkshire T&F: more info...
Cyril Elliot Meeting more..
Captain's column here
Juniors Training here
Recent Track Results here

New Hepples PB here
2 New Club Records here

Coaching Camps - Pyrenees more
You can also access this site at www.loftusandwhitbyac.co.uk